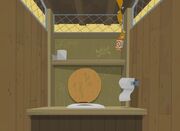 The
confessional
 is a location in Total Drama where contestants on the show can reveal their personal thoughts on the game, explain their plans, and cast votes for their fellow contestants. For the most part, these sessions are carried out in complete secrecy, only being revealed upon the airing of the show or at Chris' discretion.
In Total Drama Roleplay Season 1, the confession cam takes on the appearance of an old fashioned outhouse. On the side facing the campers is a camera taped to the wall, where the campers dish their personal feelings. Also inside the bathroom are typical outhouse sights - a toilet, toilet paper, a window, several carvings in the wooden walls, and a roll of fly paper with several dead flies stuck to it. Despite these amenities, however, the confession cam doesn't seem to be the campers main lavatory, as there are bathroom stalls in the communal bathrooms. Still, some campers have used the confession cam as an outhouse at times, but mostly by accident on Lindsay's part. It's clear that the outhouse is not a hygienic place, as during most confessions, a large swarm of flies are constantly buzzing around the campers' heads and chest.
Normally, a confession consists of only one camper speaking into the camera, however, on occasions, two enter the stall to talk together. Even though Chris mentions that these confessions are completely secret, some of the campers at times worriedly ask if the person they are talking about will ever hear their confessions or another camper is heard, waiting outside. There was only one time that the confessional videos were shown to the campers in Total Drama Returns to the Island.
Aside from speaking their mind, campers also go in the stall to cast their votes. It's unclear if all that is needed to cast a vote is the camper saying their name into the camera or if a written ballot is also needed.