The eleven remaining campers are waked up by Chris early at the morning to do a "Relay Icon Reverse Race" on the Chrisiseum. One boy managed to make his team win by a landslide. Meanwhile the other team goes to elimination and goes to sleep at the fun zone. In a shocker elimination ceremony it ends up being a tie, and after a tiebreaker between the remaining contestants the dumb girl wins, and a brainiac girl ends up out of the game.
The episode starts with Chris waking up all the contestants earlier again just to do another challenge, Chris demands that everyone needs to head to the Chrisiseum and that the losing team must have to sleep with some "friends". Then Chris reveals the challenge that is a "Relay Icon Reverse Race" leaving shocked everyone and messed-up, after he explains everyone gets it and starts the challenge.
When Chris s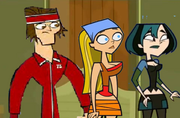 tarts the challenge it seems to be that the
Killer Beavers
we're on head due to the huge effort that
Cameron
was doing with the challenge, after five rounds and all the contestants tired is revealed that the Killer Beavers won by a landslide due to the efforts of Cameron as he is congratuled by his own team, the
Screaming Ducks
doesn't seem to be happy aside from
Tyler
due to his friend showing his usefulness.
Later, on the elimination ceremony everyone receives a marshmallow and is revealed that is a tie of votes between Lindsay and Scarlett, after everyone agrees to do a tiebreaker between those two Lindsay ends up winning the tiebreaker and Scarlett is eliminated due to remaining silent the whole tiebreaker.
Elimination Ceremony
Edit
Campfire Ceremony 6:
Screaming Ducks
Voted
Against
Voter

Lindsay (3 votes)

Gwen, Heather, & Scarlett

Scarlett (3 votes)

Noah, Lindsay, & Tyler
LOST TIEBREAKER:

Scarlett
Still in the Running
Edit
Killer Beavers

Cameron

Cody

Courtney

Dave

Duncan

Leshawna

Scott

Sky
Screaming Ducks

Dawn

Gwen

Heather

Lindsay

Noah

Samey

Scarlett

Tyler
This roleplay lasts 41 minutes.