Samey-Bot, labeled The Robot Twin, was a camper on Total Drama Returns to the Island, as a member of the Screaming Ducks. She also returns for Total Drama Wild West, as member of the Venomous Vipers, and was later revealed as a robot in Western Tough for the Polocrossie, who was replaced by Samey.
Personality
Edit
Samey-Bot is an evil robot who impersonated Samey. She frequently says "Hey Lindsay."
Samey arrives to the season, only greeting Lindsay as usual. Sky eventually picks her to be on the Venomous Vipers. She joins her team in bringing supplies to the camp grounds but seems frightened when her team loses. She ends up in the Bottom 2 with Dave for not competing much in the challenge, but is safe in the end.
The challenge is announced that it is a singing one. Samey isn't seen competing too much in the challenge once again, but is happy when her team wins for the first time.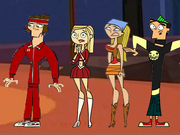 Samey is never seen competing in the Hide and Go Seek challenge. She cheers Lindsay on, and cheers when her team wins.
Samey once again doesn't contribute to the challenge, making her teammates furious. Suddenly, the real Samey shows up, claiming that this Samey was an evil impostor known as Samey-Bot. Revealed after such a long time, Samey-Bot is taken away and replaced by the real Samey.
Appearances
Edit
Voting History
Edit
Samey-Bot's Voting History
Episode
Samey-Bot's
Votes
Voted Against
Samey-Bot
1
Screaming Ducks Immune
2
Tyler
Gwen, Heather,
Noah, Scarlett, Tyler
Voted Off, Day 6
Voted For
Winner
Cameron
Samey-Bot's Voting History
Episode
Samey-Bot's
Votes
Voted Against
Samey-Bot
1
Dave
Dakota, Dave
2
Venomous Vipers Immune
3
Venomous Vipers Immune
4
Tyler
Cody, Duncan, Sky
Destroyed, Day 12
Statistics of Samey-Bot
Longevity
Seasons competed
2
Total number of days
18
Challenge Wins
Team wins
3
Individual wins
0
Total
3
Elimination Ceremony
Total votes received
12
Boney Island
Times exiled
0
She was the first ever female contestant to be eliminated.
She was the first member of the Screaming Ducks to be eliminated.
| | |
| --- | --- |
| | This character won the "Funniest" award in the roleplaying awards. |