The merge is coming up, and all twelve remaining contestants are eager to reach it. Even though, their challenge seems a bit deadly, one team is able to seek a snake thus winning for their team, and unfortunately one team has to vote someone out of the competition. The remaining contestants become excited they are all getting closer to the prize.
Lindsay takes it upon herself to speak to Katie and ask her that if she joins the merge, if she will join Sky's alliance, which Katie accepts. Scott feels a bit lonely after Ezekiel's elimination, as he is the only boy left on his team, and he is on the guy's side of the tent alone. Dakota wakes up really late, and rushes to everyone, where Chris explains the challenge to them and that the first part of the challenge is that they have to guess a quote from a contestant. Scott and Sky are both rallying up points for their teams, but by the end of the challenge, Sky manages to beat Scott, making the Vipers win the first part.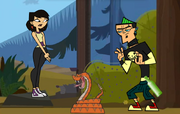 The second part of the challenge is a lot more dangerous as the first, with it being that the teams have to get poison out of a snake. Sky is getting increasingly annoyed with Samey speaking to her crush Duncan, though she claims that she does not care. Dakota is performing poorly with finding a snake (as she is too tired), but her friend Noah helps her, and manages to get a snake for their team. Thnigs get tense with Scott and Jo when Jo pushes the scared Scott to get a snake, but Sugar manages to get snake for them, and eats it (to the shock and disgust of many), which Jo pulls out of Sugar's mouth. The rest of the Vipers manages to get and suck out the poison of a snake and crossed the finish line before the Pythons, causing the former to win the challenge.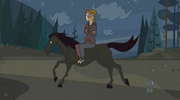 The Pythons are trying to figure out who to get rid of, and when it comes to the elimination ceremonies, Katie and Jo are in the bottom 2, only for Jo to be eliminated in an almost unanimous vote (outside of Jo's vote, which went to Katie). She was voted out because she is very violent, and it would make sense for them to get rid of a threat right before the merge, which causes Jo to be furious about, with her even punching Scott.
Elimination Ceremony
Edit
Campfire Ceremony 7:
Poisonous Pythons
Voted
Against
Voter

Jo (4 votes)

Heather, Katie, Scott, & Sugar

Katie (1 vote)

Jo
VOTED OUT:

Jo
Still in the Running
Edit
Venomous Vipers

Cody

Dakota

Dave

Duncan

Lindsay

Noah

Samey

Sky

Tyler
Poisonous Pythons

Courtney

Ella

Ezekiel

Heather

Jo

Katie

Scott

Sierra

Sugar