After an early fight between the final three, two finalists left to battle it out for the million dollar prize, and one finalist quickly gets eliminated in a tiebreaker to solve things. Two other finalists then face of for the million dollars. In the end a winner is announced due to the other falling behind and the season ends with an announcement that will shock everyone.
The final three; Lindsay, Duncan, and Scott, are required to compete in a trivia challenge within the aftermath studio to see who makes the finale two. The helpers chosen are Tyler, Sky, and Sugar respectively, but in an unfortunate twist, the the choices are mixed up; Tyler ends up with Duncan, Sky ends up with Scott, and Sugar ends up with Lindsay, leaving everyone dissapointed at this final twist that changed the whole game.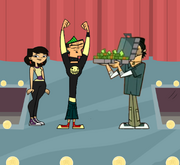 Duncan wins a spot in the final two after Tyler and him solve their conflict and get a well deserved amount of points, and Scott and Lindsay are sended to compete in a tiebreaker to see who wins the spot in the final two.
Scott defeats Lindsay in the tiebreaker and eliminates her, and him and Duncan are the final two. Duncan wins after he beats Scott by two points, and is congratulated by Sky, thus ending Season 2, but after that Chris reveals that Season 3 will be without any of the old contestants leaving everyone shocked at this announcement.
Spot in Final 2 Challenge
Participant
Result

Lindsay
Lose

Scott
Win
ELIMINATED:

Lindsay
Final Challenge
Participant
Result

Duncan
Win

Scott
Lose
RUNNER-UP:

Scott
WINNER:

Duncan
Final Results
Edit
Venomous Vipers

Cody

Dakota

Dave

Duncan

Lindsay

Noah

Samey

Sky

Tyler
Poisonous Pythons

Courtney

Ella

Ezekiel

Heather

Jo

Katie

Scott

Sierra

Sugar