The fourteen contestants are forming allies, and relationships are blossoming. As they all battled it out for the win, the Venomous Vipers continued their winning streak, and the Pythons continued their losing streak. A double elimination caused the fairytale princess and the returnee to be sent home.
There were a lot of alliance discussions happening in the beginning of the episode. Ezekiel proposed an alliance with Scott, which the latter accepts, as long as they vote together, and he never betrays him. Lindsay forms an alliance with Sky, who tells Lindsay to find other members. Duncan and Samey are speaking, which Sky sees, but soon ignores.
Chris tells them the challenge, which they have to fill in the blank, and Jo mocks him when he wraps his arm around Sugar, and calls him lover, only continuing to laugh at him when he gets embarrassed. Sky is overly concerned with Samey and Duncan's conversations, and when she is loses an early part of the challenge, she burps in Duncan's face, which Samey is disgusted by this, only for Sky to tell her that it happens when she is nervous (she is nervous about her crush Duncan). Sugar and Lindsay are up against one another for the second last round of the challenge, which Lindsay loses and Sugar wins. For the final round of the challenge, Scott goes up against Sky, where he loses and she wins, causing the Poisonous Pythons to lose again.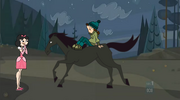 When it comes to the elimination, there was a tie, with 3 votes going to Ezekiel (Ella, Heather, and Sugar), and 3 votes for Ella (Ezekiel, Jo, and Scott), with Katie being the one to vote for Jo. Both Ella and Ezekiel were eliminated, with the former being deemed as useless, and Ella's singing annoying the team.
Elimination Ceremony
Edit
Campfire Ceremony 6:
Poisonous Pythons
Voted
Against
Voter

Ella (3 votes)

Ezekiel, Jo, & Scott

Ezekiel (3 votes)

Ella, Heather, & Sugar

Jo (1 vote)

Katie
VOTED OUT:

Ella & Ezekiel
Still in the Running
Edit
Venomous Vipers

Cody

Dakota

Dave

Duncan

Lindsay

Noah

Samey

Sky

Tyler
Poisonous Pythons

Courtney

Ella

Ezekiel

Heather

Jo

Katie

Scott

Sierra

Sugar
This episode marks the first succesful split vote from the series.