We're down to the final nine contestants, and things are steaming. Two girls join an alliance with a past winner, and there are a lot of conflicts going through the air. Three past eliminated contestants join to judge the talent show where someone pulled an old trick, but in the end the athlete won. The elimination ceremony ends up having a tiebreaker, in which the person who won the last tiebreaker won again, which leads the bald girl to leave the wild west after her newest ally backstabbed her.
The episode starts off on the boys cabin, where Scot is giving Cody a wedgie, and the three guys are overall enjoying one another's company. Scott speaks in the confessional about how the three of them are pretty cool, and that Cody and Duncan would make great allies, causing him to ask them to form an alliance, which Duncan agrees to instantly, but Cody is unsure about it. Sky herself forms her own alliance with Lindsay and Katie, which both agree to.
Chris soon tells them that the day's challenge is a talent contest, where each of the final 8 will have to perform a talent contest, with previously eliminated contestants Courtney, Tyler, and Dakota being the judges. Scott performs the alphabet with his armpits, Lindsay makes a dress with pictures, and the others completed their talents. When Sky is about to do her talent, Heather interrupts her, and decides to read Sky's diary out loud to everyone, reading the parts that Sky rote about Duncan and her feelings about him, which Duncan is smug about because he knew that she liked him. Many were shocked and/or disgusted with Heather's antics. Sky and Duncan finally admit their feelings for one another, and share their first kiss.
Scott states that at least Heather's talent was creative, causing Sky to punch him in the gut (only to apologize later), and accidentally steps on a rope that causes a stage light to fall on him. He passes out, and when he wakes up, he is mad at her for purposely making a light fall on him, which she insists it is an accident, but he refuses to believe her. After Sky finally performs her talent, she wins the challenge and gains immunity.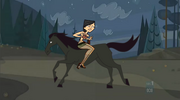 Knowing that she is on the chopping block, Heather convinces Scott, Sugar, and Samey to vote out Lindsay, and the girls alliance votes off Heather, but there ends up being a 4-4 vote tie. Chris demands that there is a tiebreaker vote, and Heather ends up going home, which almost no one cares, but Scott admits that she is a formidable player.
Elimination Ceremony
Edit
Campfire Ceremony 9
Voted
Against
Voter

Heather (5 votes)

Cody, Duncan, Katie, Lindsay, & Sky

Lindsay (4 votes)

Heather, Samey, Scott, & Sugar
VOTED OUT:

Heather
Still in the Running
Edit
Venomous Vipers

Cody

Dakota

Dave

Duncan

Lindsay

Noah

Samey

Sky

Tyler
Poisonous Pythons

Courtney

Ella

Ezekiel

Heather

Jo

Katie

Scott

Sierra

Sugar